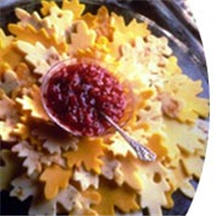 Use a cheese slicer to make even slices (1/8- to 1/4-thick). Using a few seasoned cheeses, like Jalapeño Jack, will give the appearance of changing leaves.
To make leaves of various sizes, use cheese-leaf cutters (available in cookware and hardware stores).
In the center of a round cheese board, place a bowl of cranberry relish (available in most grocery stores).
Place leaves in a ring around the bowl. Repeat layering with remaining leaves. Cover with plastic wrap and store in refrigerator until serving time. Use leftover cheese leaves for snacks, casseroles, pizzas and salads.