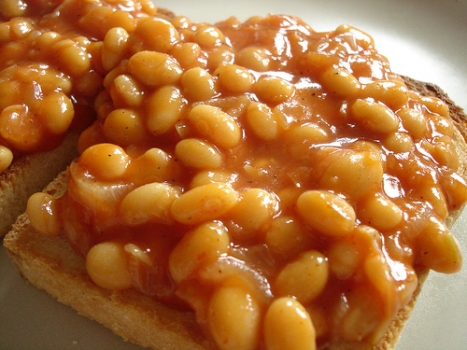 Ingredients
* 2 cups dry white beans
* 3 cups water or vegetable broth
* 2 cups onions, cubed fine
* 1 cup green and red bell pepper, chopped
* 1/4 cup garlic, minced
* 1 tbsp paprika
* 1 tbsp ground coriander seeds
* 1/2 tsp turmeric
* 1/4 cup whole-wheat flour
* 2 1/2 cups very thick cooked-down tomato puree (
* salt to taste
* 1 tbsp molasses
* 1 tbsp fresh lemon juice
* 1 1/2 -2 cups bean broth
Description
This is a versatile recipe that can be transformed into many different dishes.
It freeze really well (as long as it does not have the pasta) so you can double the batch and save time.
Instructions
1. Soak beans overnight, boil uncovered until foam forms, drain and add new water. And do this again.
2. Add water and vegetable broth to white beans simmer on low covered until cooked.
3. In separate pot cook onions, green pepper, garlic, paprika, ground coriander seeds and turmeric until onions are soft.
4. Add flour, tomato puree, salt, molasses, lemon juice and cook 10 minutes.
5. Add beans, whole-wheat pasta cooked al dente, seitan and adjust water and seasoning to taste.
6. Pour in pans and bake 20 minutes covered. Decorate with black olives upon serving.
7. Or pour in oven casserole pans top with thin layer of mashed potatoes or cooked cornmeal mush and bake uncovered 20 minutes.
Note
Variation:
For even more delicious baked beans at the end before adjusting the flavors add:
1 cup of dry elbow whole-wheat pasta that has been cooked to al dente and is still a little crunchy in center.
2 cups bite-sized torn pieces of seitan or sliced seitan sausages.
And to make a complete meal in one dish, after pouring baked beans in oven casserole spread another layer of vegan creamy mashed potatoes. Bake uncovered 20 minutes. Yummy!
Or rather than topping with mashed potatoes top with cooked cornmeal and spread. Bake uncovered 20 minutes.