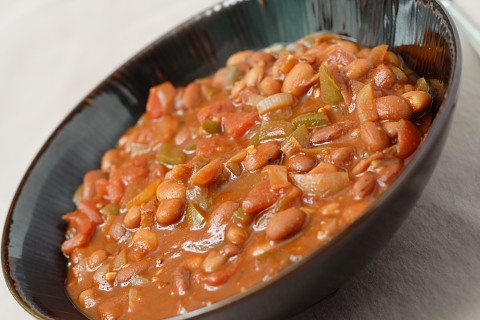 Ingredients
• 1 cup dry kidney beans, soaked overnight
• 1 cup seitan pieces or frozen hard tofu defrosted
• 2 tbsp bean broth
• 2 tbsp soy sauce
• 1 tbsp peanut butter
• 3/4 tsp garlic, minced
• 1/2 tsp paprika
• 1/2 tsp ground coriander seeds
• 1/2 tsp onion powder
• 1/4 tsp cumin
• 1 cup onion, sliced julienne
• 1 cup green peper, sliced julienne
• 1 1/2 tbsp garlic, minced
• 1 tsp paprika
• 1 1/4 tsp cumin
• 2 tbsp whole wheat flour
• 2 cups water from cooking kidney beans
• salt to taste
Description
No one who has tried this recipe has not loved it. Even those who do not like tofu or kidney beans enjoyed this chili.
Instructions
1. Soak kidney beans overnight. Change water, bring to boil and change water. Bring to boil again, simmer uncovered on very low heat until soft, drain set aside. Saving water for later.
2. Whip together next 6 ingredients.
3. Pour this over the seitan pieces or tofu cubes, mix and spread on oiled tray and bake 20 minutes flip tofu over and bake 10 minutes on the other side, or bake until crisp a little.
4. In soup pot, cook onion covered, cook until yellowish, add pepper, garlic and seasonings, cook until pepper in soft add flour.
5. Add cooked beans, water, salt and baked seitan or tofu.
6. Simmer covered for 10 minutes or until flour thickens.
Serve hot with salad and toasted bread.
Note
This recipe freezes really well so you can double the recipe and freeze a batch to take out and heat to have a meal ready pronto.