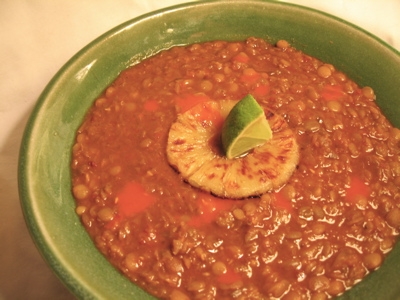 Ingredients
* 1/2 cup dry chick peas
* 6 cups dry black lentils
* 2 1/2 cups onions, pureed
* 1 tsp salt
* 1/3 cup garlic, crushed
* 3 medium-large potatoes, cut into chunks
* 1 cup green beans, chopped 2cm long (optional)
* 1 1/2 cups green pepper, chopped small cubes
* 2 1/2 TBSP ground coriander seeds
* 2 TBSP paprika
* 1 1/2 TBSP onion powder
* 1 TBSP mustard seeds
* 1 1/2 tsp ginger powder
* 1 tsp cumin
* 3/4 tsp fenugreek seeds
* 1/2 tsp celery seeds
* 1/2 tsp turmeric
* 1-2 tsp molasses
* 2 cups coconut
* 2 1/2 -3 cups thick tomato sauce
Description
Makes a simple dish of lentils taste gourmet! Serve with a tomato-onion salad and cashew yogurt and finely chopped fresh coriander for garnish.
Instructions
1. Soak chickpeas overnight, cook until well done, blend with minimal amount of cooking water.
2. Wash lentils and cook with minimal amount of water on lowest heat until cooked but firm, strain extra liquid and set aside to use for coconut milk.
3. In a wide skillet, cook onion puree (with some salt) until the onions puree begins to become golden.
4. Blend 3 cups coconut with 3 cups water, strain, mix additional 2 cups of water in strained coconut pulp and strain again (freeze coconut pulp remaining from milk and use in baked goods).
5. Add garlic, potatoes, green beans, green pepper, seasonings, coconut milk, tomato sauce and simmer on low heat until potatoes are just done.
6. Once potatoes are just done add blended humus and add this mixture to lentils. Add salt to taste. Cook together 10 minutes.