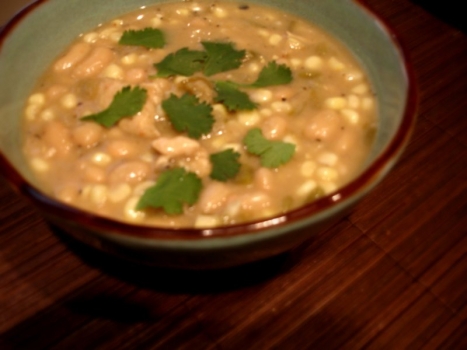 Ingredients
* 2 cups dry white beans
* 2 cups onions, sliced
* 2 cups green peppers, sliced
* 2 tsp cumin
* 2 tsp ground coriander seeds
* 1 1/2 tsp sweet paprika
* 1 1/2 tsp onion powder
* 2 tbsp garlic, minced
* 1/4 cup whole-wheat flour
* 1/4 cup peanut butter
* 3 cups approx. water from cooking white beans
* salt to taste
Description
Unless someone told you, you could never guess by tasting it where the creaminess came from!
Instructions
1. Soak beans overnight, boil uncovered on high until foam forms, drain wash, and add new water. Bring to boil, lower heat and simmer until soft. Drain (saving beat water for later) and set aside.
2. In separate pot, cook onions covered with some salt until translucent gold and green peppers, garlic and seasonings. Cook for 5 minutes.
3. When peppers are soft mix in flour, cook few minutes, stirring. Mix in peanut butter and slowly mix in bean broth. Once well mixed stir in drained beans. Season to taste with salt.
4. Pour into trays and bake covered 30 minutes.